You've likely heard it said a thousand times before, but it's true. A picture really does speak ten thousand words.
The first reported use of this phrase is in 1921, by Frederick R. Barnard in Printer's Ink. It was a comment on how graphics can tell a story as effectively as a large amount of descriptive text.
In the world of PR, strong imagery can often be the difference between your story being picked up or ignored. Weak concepts and poor-quality photos attached to interesting news can really diminish the quality of your overall story.
Put simply, high-quality images can be the difference between success and failure.
Photography as a resource
Every business should ensure it accommodates photography within its resource and budgets. The size of the business is irrelevant here, what's important is that the pictures you put out into the world reflect on you in the right way.
If those images are of poor quality, are badly taken or badly edited, that reflects badly on your business. Whether this is within the media, within your social media channels or on your website, you have to be investing in photography as a vital resource.
If you have a skilled, experienced photographer within your team, make sure to utilise them properly. Otherwise, hiring skilled professional photographers is a must.
If you are hiring a photographer, then you have to be prepared to pay for quality.
Shirking the cost of photography
Trying to save on costs by hiring cheaper or less experienced photography and photographers is rarely a wise idea. The old adage you get what you pay for is very relevant here.
Speak to your colleagues, friends and acquaintances, get references and check reviews on photographers in your area. Make sure to examine their portfolios and always consider whether this photographer is the right person for your needs.
If, and when, you do land upon a photographer that suits your business needs then make them a preferred supplier. You will have a better brand continuity because all your images will be consistent and long-term relationships can mean favourable long-term rates.
It's all in the brief
The brief is crucial to great photography. It doesn't matter how experienced a photographer is, they all need one. Even Mario Testino works to a brief.
When writing your brief, you need to consider how it could be interpreted by a photographer. The last thing you want is to end up in a situation where you're reporting back to a photographer after a shoot which has been misunderstood and therefore misrepresented.
If you're running a PR campaign, the key messages and fine points of that campaign should all be factored into the brief.
A good practice to get into is to collaborate with your PR photographer on the creation of the brie and shot list. Seek their advice and counsel on creative approaches, they are the experts after all.
News media
An important distinction to make is the difference between working with news photographers.
If you are hiring a photographer you should absolutely be providing them with a full brief and shot list. But if you're working with either a newspaper staffer or a picture agency photographer, then you're going to need to take a very different approach.
In this case, you'll be issuing what is often referred to as a photo call and this is not a brief. A photo call is more like an invite, whereby you describe what the photo opportunity is in relation to a media story, press release or PR campaign.
When dealing with news photographers for the purpose of PR photography, you need to allow them a greater deal of control than you would with a PR photographer. They are highly experienced and know exactly what they need to shoot in order for it to be picked up by the media, so don't try to direct them.
It goes without saying that if you can hire a commercial photographer who has experience and understanding of shooting for the media, then that is a huge positive.
If you can work with a photographer like this, it will give your PR photos a huge boost as you'll have the ability to issue PR photos of a guaranteed high level of quality.
Mind the details
When issuing photography to the media, there are certain practices and rules that you need to follow.
Image size is crucial. If you're sending an image file to a print media outlet, you need to ensure that the image is properly sized. Anything over 3 MB is a good rule of thumb to follow, but what is the most crucial is the DPI.
This means dots per inch and it's a measure of print quality. Anything under 300 DPI is not suitable for use within any print media publication.
Group photos: dos and don'ts
There may be instances when you need to take a group photograph to accompany a press release. This can be somewhat of a minefield.
When done right, group photography can be very effective. Particularly within local media, where they favour large groups in images – the more people are in an image the more likely they are to sell more copies.
But getting group photography right can be tricky, and this is why:
Positioning
The more people you have in a shot, the harder it is to position them all. What you don't want is a picture where half of your group has their faces obscured by the other half. Plan out your shot, get everyone in position, take one shot then study it, if you need to move some people around do it. But take your time and make sure you can see everyone's faces.
Focus
The second challenge is in focus and depth of field. With a large group shot you need to make sure that everyone is in focus.
Attention
Keeping everyone's attention can be a challenge, but it is key to getting that killer shot. Make sure everyone is facing the camera, eyes open, wide smiles and that no one is doing something different to the group.
If you're doing your own photography, these are all things to bear in mind. But if you're working with a professional PR photographer, then you can rest easy knowing that they are more than experienced at this.
Have a critical eye
If you're dealing with a lot of photography, be it through a long PR campaign or just an ongoing part of your remit, you need to be sure that standards aren't slipping.
Having a 'producer's eye' is important in these situations. This means making sure the composition of your shot is clean before you've even shot a single frame.
Here, we have an example of where this hasn't worked out so well.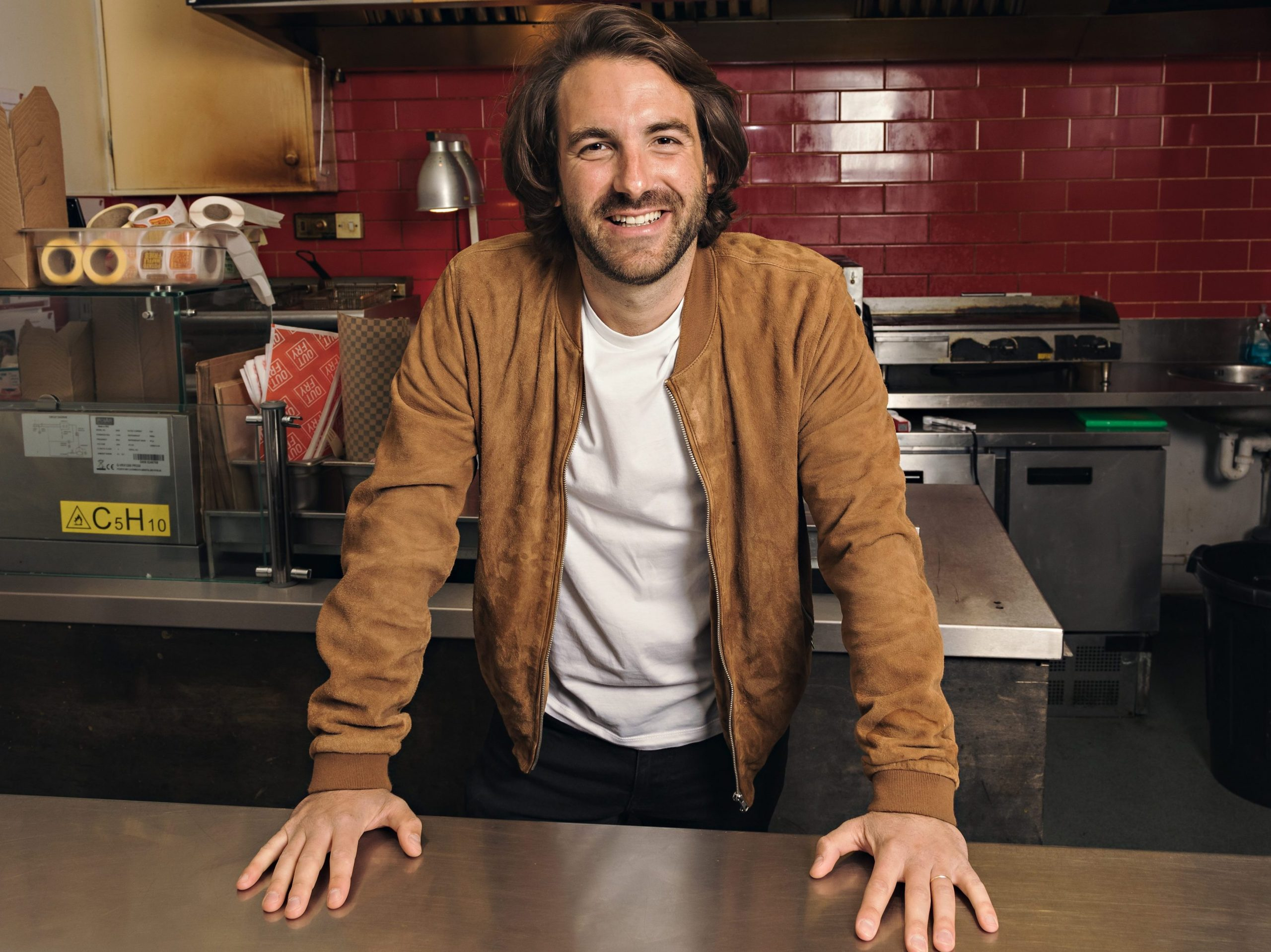 The above image was used as a PR shot to announce a 37 million private equity round. A fantastic achievement, accompanied by an image filled with problems.
Note the lightning bounce on the red tiles. Underneath this, the waste and refuse have not been taken out. To the left of the subject's head, a black burned area above a fat fryer, the general untidiness of the place and a strange chemical hazard sticker.
All of these things undermine the story itself and could, and should, have been spotted prior to this image being taken.
Editing can fix many problems, but not everything
As the headline suggests, you can fix a lot of problems with a RAW image file with editing software.
Adobe Lightroom is one of the most complete and powerful software options available. While it offers a lot of functionality, at a basic entry level it's fairly simple to get to grips with.
Exposure, contrast, highlights, and shadows can all be adjusted manually to bring more light and colour into an image. Aspect ratios and straightening tools can be applied. Basic functions to make your images stronger.
Lightroom can fix and hide a multitude of sins, but it can't fix everything. For example, if your original image is too dark and underexposed. Then manually increasing the exposure in Lightroom will result in a rather unattractive image noise. 'Noise' in photography makes the image look less sharp, grainy and unattractive.
Making sure your frame and subject are well-lit before shooting is the best way to prevent any of this. So investing in lighting, if you're doing your own photography, is strongly advised.
Stand out shots 
When you get your images right, it can really help a story fly. An image which certainly speaks ten thousand words.
Talk to us about the image you need for your stories [email protected].
https://www.ambitiouspr.co.uk/wp-content/uploads/2023/02/BLOG-HEADERS-10.png
430
1500
Simon Boddy
https://ambitiouspr.co.uk/wp-content/uploads/2021/10/ambitious-pr-logo-web.png
Simon Boddy
2023-02-13 11:20:38
2023-02-13 11:25:39
PR photography 101