When we use the terms SEO writing or optimising content, it's all about the process of creating and publishing content. The aim is to get quality content ranking on the first page of a search engine results page (SERP).
As public relations and marketing become increasingly digital-focused, optimised content is crucial for brands and businesses to get the presence and cut through they desire. In this article, we'll explore the principles and theories behind this practice. We'll look at how it works, as well as tactics and strategies to improve your content.
How does SEO writing differ from just writing?
The first question you may ask yourself is what's the difference between writing for SEO and just writing in general?
The answer here is both nothing and everything.
Writing content for SEO is just writing, but it is a far more tactical and considered style of writing than say writing a press release. Writing SEO-friendly content requires more in the planning and preparation phase before a single word has even been written.
Good SEO writing ensures your content is high enough quality to appear in the SERPs. In fact, quality content is an absolutely essential part of Google. they have created E-A-T guidelines for content creators. E-A-T means Expertise, Authoritativeness, and Trustworthiness and is part of Google's algorithm. Check out Google's Search Quality Evaluator Guidelines for more information.
Even Google says that E-A-T is "very important", so don't neglect your SEO content writing.
Search engine results: how do they work
It can be tricky to explain the concepts behind writing for SEO, without first explaining how a search engine finds, reviews and indexes content. The following four steps can best explain this journey in a nutshell.
Publishing content: the search journey begins with the content being published online.
Crawl: Google search implements bots, you may often hear them referred to as spiders. This automated software is constantly 'crawling' the internet in search of content to rank and index.
Indexing: having found and assessed your content, based on a number of pre-determined metrics, these bots will rank and index your content
Search engine results page: should your page and your content meet the content criteria, it will appear on search engine results pages
Seems simple enough, but when you factor in the sheer of people all ranking and levying for the same keywords and the same search engine placement, things can quickly become highly competitive.
SEO writing: planning is everything
If you're looking to write SEO content, then before you've even written a word you need to plan your content and your keywords.
Whether it's a blog post, a piece of thought leadership or a news story. An SEO content writer, before they've even put pen to paper, will look to target keywords, research relevant keywords to the given topic, explore relevant search queries and establish a content framework based on these.
Keyword research
In online content, keywords are king. Getting these right is the difference between your content either ranking highly and outperforming your competitors or falling into search engine obscurity.
It all starts with the primary keyword. These particular keywords act as the foundation of what's to follow, you need to establish your keywords before you start writing. But why?
As we've said, the SERP landscape is a competitive one. Businesses and brands are vying for positions on a daily basis. By researching your keywords, you can check the search volume on specific keywords, the competitive keyword density and crucially the keyword difficulty.
Let's use this very article as an example.
Prior to writing this, we used keyword research to form the basis of the article. There's no surprise that this is a competitive area.

In the case of this article, we have used content writing for SEO, as the primary. But why?
Looking at the search volume and results, this particular keyword has a lower search volume. Meaning less noise and competition from commercial keywords. It also shows a lower keyword density – denoted by KD%.
A lower keyword difficulty means that it will be a little more straightforward to write and potentially have this piece rank in Google's keyword search.
From here, you can also look to add secondary-related keywords, called LSIs. LSI (Latent Semantic Indexing) keywords are words that are related to your primary keyword and are semantically relevant. Think of it like a bucket that you fill with keywords related to the main topic of the article.
But there is a fine line to be aware of.
Too many keywords, and you venture into keyword stuffing. This is a practice frowned upon in SEO writing circles. And Google will penalise sites it thinks are using this tactic. Keyword stuffing is seen as an unfair means of gaming the system and your content can actually be ranked down for this.
Matching intent
The next important step is to match your content with the searcher's intent. There are four types of intent and matching this to your content will help people find the right content for their needs.
Informational: these are keywords which help a user find information on a specific topic. Informational keywords may include what is, or how to…
Navigational: this is when a user is looking for something specific. These kinds of searches are most effective for sites with existing brand presence and traffic. For example, someone searching for a specific business or service provider.
Commercial: this is when a user is researching a potential purchase. They may be looking for the best value, the most expensive or the cheapest of any given product or service. So commercial keywords often include these themes
Transactional: this is when a user is ready to buy. Transactional keywords are often called buyer keywords for this reason
Matching the key points of your intended content with search intent is a good SEO habit. For instance, if you're writing a piece of content marketing such as an industry-leading piece of thought leadership then you will look to target informational keywords.
If you're looking to influence buyer decisions and have products or services for sale, then commercial keyword and transnational keyword research to match intent should be your tactic.
Writing the content
With keyword research complete, intent matched and a content framework built. It's time to start with some SEO copywriting.
Tools for SEO copywriting
There are some fantastic tools out there which help build SEO-optimised content and copy.
SurferSEO is a great tool as it allows you to do all your keyword research and target keyword analysis. This allows you to create content with a view of which target keyword and related keyword phrases you ought to include and how many times to include them for optimum SEO efficiency.
It also provides an optimum word count, and an ideal number of headers, paragraphs and images to include. This isn't to say it writes it for you, far from it. A tool such as SurferSEO provides you with pieces of a jigsaw puzzle, which it's up to you to assemble. You will still need to plan and write quality content, as this tool helps you get it to the best possible place.
SurferSEO also offers a rather handy, gamified way to ensure your content will be in the best possible place with its 'content score'.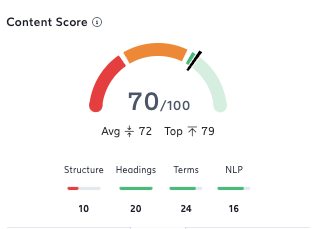 The content score wheel is a handy indicator of how your content rates in terms of structure, headings, terms and NLP (Natural Language Processing). Think of it as a Grammarly and a powerful SEO writing tool all wrapped up in one.
Using an SEO content creation tool will, by far and away, aid your content creation far more than it would be simply writing content in your website's CMS, publishing it and hoping for the best.
There are other similar tools out there including:
Content Harmony
MarketMuse
Clearscope
Frase
Semrush Writing Assistant
Page Optimizer Pro
Conductor
seoClarity
These operate in slightly different ways but all aim to optimise your copy and ensure it's in the best shape before publishing.
Composing your content: tips and tricks for SEO success
When you actually come to writing your SEO content, you won't just be writing 1000+ unstructured words. There is a strategic art to creating balanced SEO copy.
Headers and content layout are crucial
Websites, and search engines, like headings, subheadings and internal links. What they don't like is one massive block of copy. Let's look at a practical example of this in action.
The website BBC Good Food is widely renowned as one of the finest examples of SEO in action. If you've ever run a Google search for a recipe, BBC Good Food is pretty much always top of the SERP.
The image below is just one of countless recipes on this website. The recipes themselves vary greatly. But the format is always exactly the same. The use of headings can be seen here. The name of the dish is distinct, and then subsequent headers break down the recipe into easy and manageable sub-sections.
This uniformity is part of what makes this particular website a brilliant example of not only how to lay out and structure your content, but how to maintain continuity across tens of thousands of individual pieces of content.
Title tags
There are some important elements outside of the main text that you need to consider. One of these is the title tag. A title tag is a piece of HTML code which allows you to give any given webpage a specific title.
When Googling the term what are title tags, we see three perfect examples of optimised tags – which can be seen below as the blue, linked text.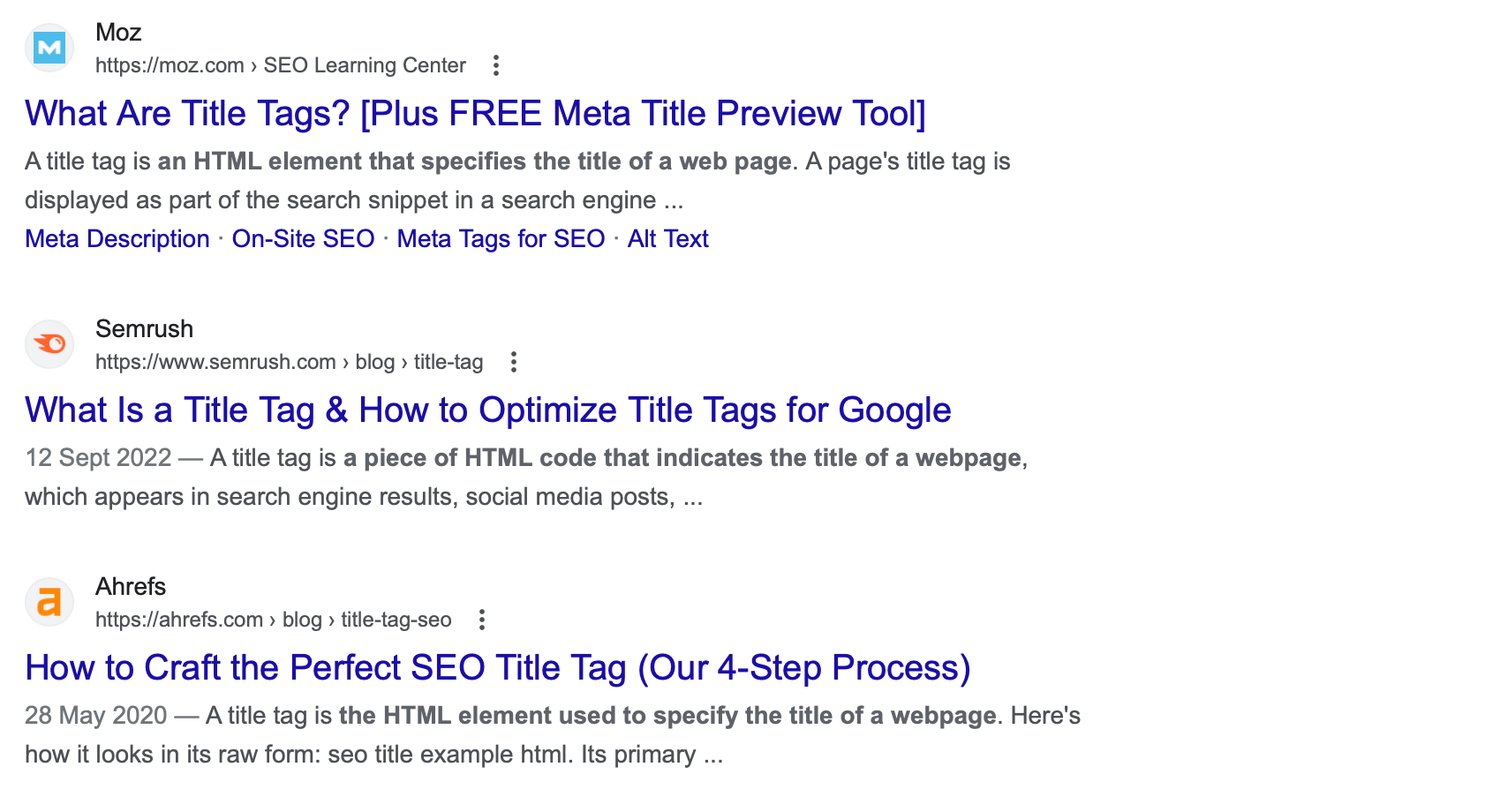 Your page title and tags also need to be optimised for search engines, as this will greatly affect how any given piece of content appears on a search engine results page. When crafting your title tag, consider the same tactics as your main content.
Your target keyword needs to be in the title tag. The tags themselves are important ranking factors. You also need to consider the search intent associated with a keyword.
If someone is searching for advice on the best social media marketing software, the best headphones on the market, or even a place to find the cheapest airline travel, whatever the problem your title tag needs to clearly offer a solution to the potential visitor. It needs to do it concisely.
A lot of search now is done by mobile. Title tags will very often be clipped due to a mobile phone's aspect ratio. So keep your tags short and sweet to aid the search results.
Meta description
A meta description is another key, but easily and often overlooked part of the SEO content writing process.
Like the title tag, meta descriptions are another piece of HTML code. It follows directly on from the title tag, showing up underneath, and giving further description to your content.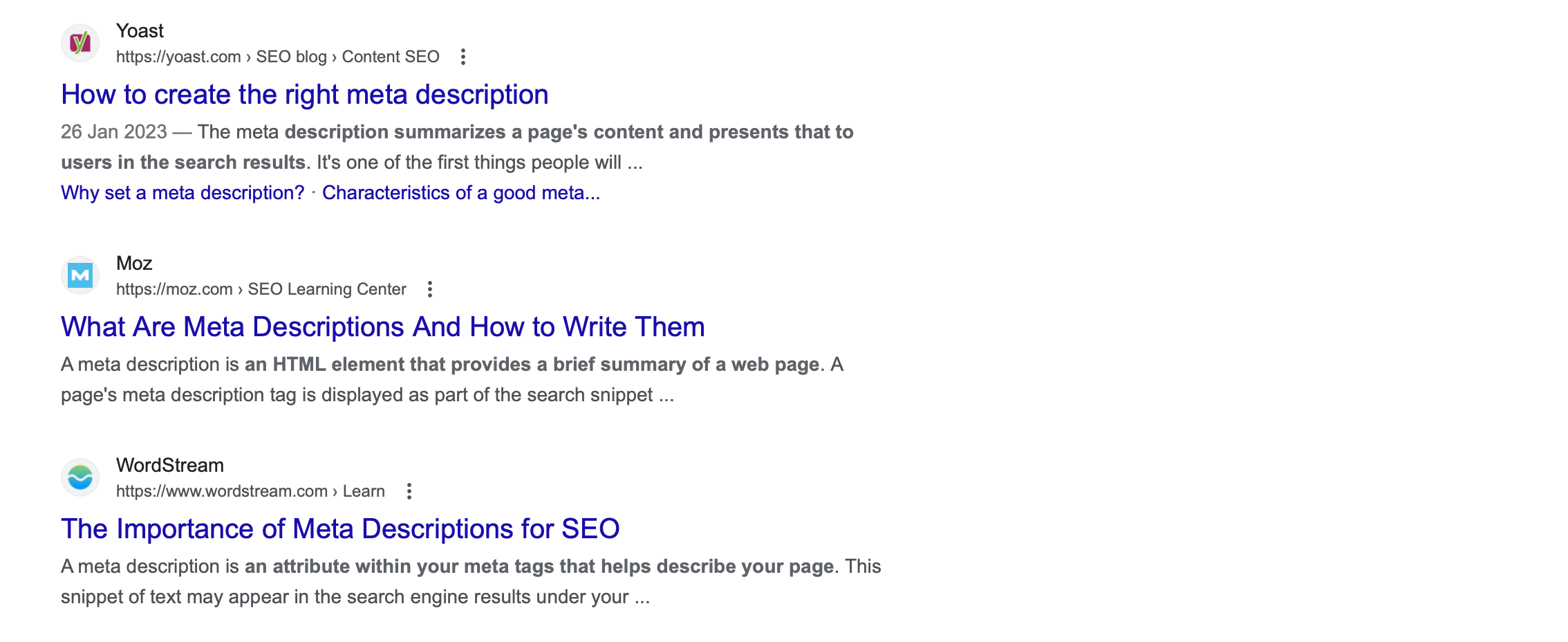 Again, these meta descriptions need to contain your main keyword and other related keywords, but they should be clear and concise for maximum readability. This is where a successful SEO writer or copywriter really proves their worth.
You need to offer a potential site visitor a reason to click on your link, whether that's helping them solve a problem, learn a new skill or make a purchase. To achieve this, try to add in a solid call to action where you can and be clear in your messaging.
If you can optimise these well, Google may take it one step further. As you can see in the image above, there are some sections of this organic search which are bold.
This boldening of text comes from Google. It recognises both this specific piece of content and its source as knowledgeable and reputable on this specific topic. So it prioritises these pieces of content within search results and makes the meta description snippet bold to stand out more to potential users.
Google rewards good content: featured snippets
We've mentioned above that Google rewards content marketing efforts it deems to be expert, authoritative and trustworthy. This is part of its E-A-T guideline, which you can read about in full here.
Over the long term, if you can show Google that your content lands within these guidelines, then it may reward you with a featured snippet. Featured snippets are boxed-out content, which Google suggests to search users. You'll find these within the 'People also ask' section.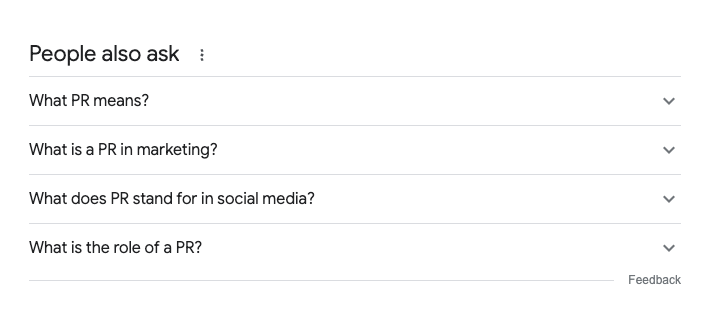 Google displays featured snippets only when it determines that your content will help people in what they are searching for. Which is why its E-A-T guidelines are really important to follow.
Changes to E-A-T: relevance is now more important than ever
Google has recently announced a raft of product updates and changes to its automated systems, and how they rank and index web pages and content. But Google's E-A-T criteria are some of the most important considerations when creating your content and content strategy.
The SEO community understands that Google's ability to find your site is no longer just about keywords. Providing topical, factual, relevant pages and up-to-date content on an authoritative site is the way forward for organic traffic.
This now also applies to placing content on third-party sites, which has potentially huge ramifications for the way PRs place media stories and online content on behalf of their clients.
Relevancy in content: how this may affect PR and media coverage
Traditionally the role of a PR has been to gain media coverage. This could be widespread and broad or it could be honed and niche.
As PR began to become more digital, PRs found that the opportunities to place their clients' news and content began to greatly diversify. But with Google's refocused E-A-T principles, we may start to see this peel back.
Where, and indeed why, E-A-T can have ramifications for PR and content placing is that Google can potentially punish a web page for displaying content that it deems to be not relevant, informative or trustworthy in relation to its core demographic and knowledge base.
In layman's terms, placed content now has to have even more relevancy in order to land.
For those operating with specific sectors and aligned verticals, it poses little change or threat. But where potential problems begin to arise is in startups and existing businesses looking to expand their services into new sectors or verticals.
A practical example
Let's say, for example, a software company which has previously specialised in SaaS for the property sector develops a product and routes it to market to the health sector. Where content marketing and brand PR problems could arise here, is that this business's online reputation, knowledge and experience, as far as Google is concerned, is in property.
So, when you start to push content that's related to a new sector. There's now a lot more inertia to overcome in terms of SEO writing, to ensure Google and other search engines aren't downgrading your content.
This can affect media coverage too.
To stick with the example above, PRs selling media stories to new sectors and vertical titles, need to consider how they write content for media… as well as how they write content for SEO. A media title doesn't want content on its web page marked down or potentially de-indexed. That could be reputationally damaging for all involved.
SEO has to now be a major part of your wider PR, content and marketing strategies.
In summary
SEO writing isn't just about picking a primary keyword and then rushing off and writing 1000 words and hitting publish on a blog post. There's a great deal of nuance and specialism to SEO copywriting and it is fast becoming a more crucial part of the wider communications role.
While we have covered SEO content writing tips here, what must be said is that a strong and competent SEO copywriter is worth their weight in gold to any business.
The ability of an SEO copywriter to produce high-quality content marketing, that also folds in all of the key SEO elements, such as meta tags and meta descriptions, target keywords, and analysing organic traffic, has wide-ranging benefits.
As the business landscape becomes more digital and more competitive, the SEO specialism and the need for an SEO copywriter within a business is only going to become more important. Those adopting these strategies early will reap the rewards because these are strategies which take time and expertise to implement.
You simply cannot hope to build a bank of SEO-friendly content overnight, nor can you hope to have your business appear at the top of search engines immediately.
As well as experienced SEO writers, patience and long-term strategy a very much needed here. If you aren't already looking at SEO strategies, and how they can help your business and brand grow… you need to be.
Competitive SEO and PR strategies are ever-changing, and leveraging all channels is essential to staying ahead of the game. At AMBITIOUS, our team know digital PR well and how to develop content that will rise up the keyword rankings.
If you'd like to arrange a call to discuss your SEO writing, copywriting, or wider SEO and digital strategy, then get in touch.
https://www.ambitiouspr.co.uk/wp-content/uploads/2023/05/Content-writing-for-SEO.png
430
1500
Joe Wright
https://ambitiouspr.co.uk/wp-content/uploads/2021/10/ambitious-pr-logo-web.png
Joe Wright
2023-05-17 10:31:35
2023-05-17 10:39:17
Content writing for SEO